Buy with confidence
Each tree is sealed and includes a unique serial number to clearly identify the images you see on the web site with trees at our nursery.
Land for sale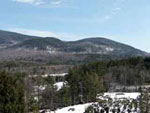 517-acre mountain parcel available bordering on the White Mountain National Forest, including road access and two mountain tops. See all the particulars here.
Welcome to Shin-Boku Nursery
SHIN-BOKU: (n) Japanese. (shin-bo-kooh) "Specimen Tree"; "Principal Tree"
Following a four hundred+ year tradition of Japanese garden tree trimming, our trees are trimmed and guided to grow in a style consistent with this legendary art form.
We also offer landscape design services.
Please call for an appointment.
"The Japanese stroll garden created by Palmer Koelb and Shin-boku nursery is an outstanding example of creating an evironment of peace and tranquility within a suburban type community. Starting with a basic design, Palmer selected two outstanding examples of Japanese specimen trees from his collection at Shin-boku nursery as a focal point for the stroll garden. Over the past two years, Palmer has developed the original concept into a more mature stroll garden by adding additional native stones and trees. Now my wife and I can enjoy the beauty of a Sukiya-style garden during all four seasons from many vantage points inside our home. Because of my long-standing interest in Japanese gardens, I have also participated in the annual pruning workshop held at Shin-boku nursery. By gaining experience in actually purning a variety of specimen trees at the nursery, I've gained a greater appreciation of the nuances of the many elements of a Japanese style of garden. In summary, the work by Palmer Koelb and Shin-boku nursery has exceeded my expectations not only in meeting the budget, client relations, time to completion, but in transforming a small part of the New Hampshire landscape into a serene Japanese style garden."
David
Palmer with his installation in a Central Park apartment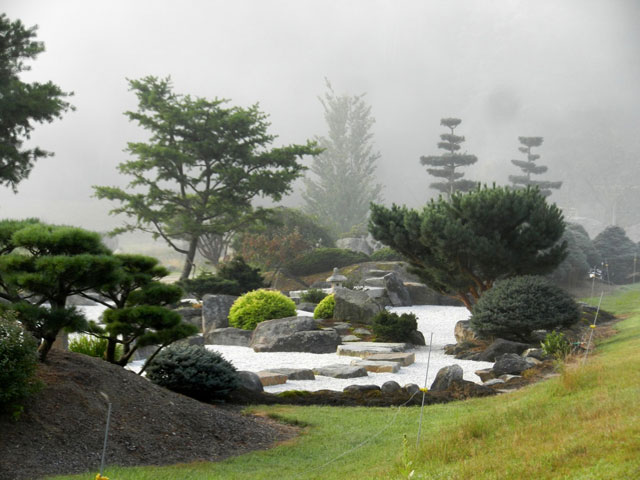 "In colder months, my other gardens are of minimal interest… Palmer's garden, however, is always beautiful."
Joann Wood
NH Home Magazine, 2/17/2009
Shin-Boku Nursery (Aerial Image courtesy of Google Earth)
"Wow, isn't enough to describe the effort & passion to accomplish all that you both have done. It was a lovely evening and the 10 of us really appreciated your hospitality. Hopefully, Bob & I will be there on Labor Day WE."
Fern and the Ashland girls. Fall 2013.
"My wife and I happened upon the Shin-Boku Nursery and Stroll Garden on our way home from a family vacation in the White Mountains of New Hampshire. Our advice, if you appreciate Japanese Gardens or Japanese Garden Trees, or are even just a little curious, definitely go out of your way to visit this nursery.
To be honest, I was in complete awe of this garden; it was, for me, the absolute definition of garden beauty. If there is such a thing as a "garden masterpiece" this is it!
In another part of the nursery, we also enjoyed walking through hundreds (a mini forest, if you will) of mature Japanese Garden Trees. Everyone of these trees was a true piece of art. I would be proud to have any one of them in my yard, as part of a Japanese Garden or not.
In addition, Mr. Koelb and his grandson were gracious with their hospitality, more than willing to show us around and answer our questions."
Peter Grandy, West Hartford, CT. August 2013.
"For over 20 years Pellettieri Associates has collaborated with Shin-boku Nursery on landscape installations around New England and their quality/selection is second to none. We've received some of the most stunning specimen plants from Palmer over the years, all of which have been cared for as if they were being planted at his own residence. His inventory includes some of the most hardy/unique plants in this region, guaranteeing you'll find a specimen that exceeds your expectations.
Most importantly, Palmer is committed to every plant that leaves his nursery. From installation, to watering, fertilizing, pruning, etc. . . he is always available to discuss proper care for your plant, or make a visit just to monitor the plants health.
We feel very lucky to have been associated with Palmer for all these years and look forward to many more projects together!"
Pellettieri Associates